Meet Lisa Schmitz, Co-Founder of Mars Hill Arts Center and Owner of Where Pigs Fly and such. Lisa has a love for art, photography, and floral design. Combining her passions and experience as a merchandiser and retail display and design specialist, Lisa has created an eclectic and vintage-feel floral and event design consultancy that focuses on creative event and space design for her clients. This floral and event design venture, Where Pigs Fly and such, is part of the arts nonprofit that Lisa and her husband John founded in the Mars Hill Arts Center.  
 
Mars Hill Arts Center is a nonprofit focused on providing programming for the neighborhood of Mars Hill on the near southwest side of Indianapolis. It houses pottery, floral design, and craft studios, in addition to an activity space. The Mars Hill Arts Center also offers space for gatherings and special events at an affordable rental cost. The meeting room space can serve as a training venue and the arts center offers art and yoga as part of a corporate training experience. In addition, the space is utilized by a community Tae Kwon Do class and other community activities. 
Get to know Lisa as she shares the mission behind her businesses, the best advice she's ever received, her favorite book recommendations, and the symbolic meaning behind her unique business name.
What drew you to becoming an entrepreneur?
I left corporate America 6 years ago to live a more creative life and serve the community. I have always wanted to own my own business since I was a kid. I just never had the courage to take that leap. When my husband and I decided to start a nonprofit (Mars Hill Arts Center), I finally knew that the time was right, and I took the leap! 
What philosophies are at the core of your business?
At Mars Hill Arts Center, we believe that infusing art into an underserved community can inspire positive relationships among the residents and inspire the kids to be creative not only in art but in the way they approach life. We serve our community with arts, crafts, life skills, and wellness resources.
To the core, we aim to be a resource, even if it is for something that we don't necessarily offer here. My husband and I have been a resource for people when they don't know who to turn to or where to go because we're so connected within Indianapolis and know a lot of the ins and outs. Even if we don't know the answer, we want to help them figure it out.
Best advice you've ever received?
Don't be afraid to take the leap! If you have prepared, done your homework, and have a passion for what you do, you will be successful. 
What is the greatest challenge in your industry?
Since Mars Hill Arts Center is a nonprofit, I would say our greatest challenge is funding sources. For Where Pigs Fly and such, the supply chain is so wacky right now that we cannot promise anything design-wise.
What do you find most rewarding in your roles?
As co-founder of Mars Hill Arts Center, I enjoy seeing the community use the space as their own. For instance, we have some families that have used our space to host their family holiday gatherings, birthday parties, etc. because they have outgrown their home between their kids and grandkids. I'm happy that our space has gotten a lot of use from the surrounding community! 
As the owner of Where Pigs Fly and such, I'm going to share something that sounds a little cliché. I love hearing a bride say to me: "you've made all my floral dreams come true." I've heard that more than a handful of times in the four years that I've had my business and it just really makes me feel good. I know how special the wedding day is, and I don't ever want anybody to be disappointed or surprised. I want them to just love my creations as much as I do! 
I've been a "mother of the bride," and I did flowers for both of my daughter's weddings. And so yes, I know what it feels like to be working on a day that you should just be enjoying and celebrating, and I tell other moms that all the time.
Earlier this year, you were chosen as an artist for the Hoosier Women Artists Exhibit at the Indiana Statehouse. How did that recognition feel?
 It was a pretty special day for the Mars Hill Arts Center! I am so honored to be one of the artists chosen for this exhibit. Each artist's work was judged by a panel of creative artists and then chosen for the exhibit.  
During the Hoosier Women Artists Exhibit, we celebrated everyone's work and met the officials who then chose the pieces they wanted to hang in their offices. When I met the Indiana State Secretary of Education, Dr. Katie Jenner, who chose my piece for her office, I was met with smiles, gratitude, and a great big hug! To come from a family of educators and to know that my piece will be hanging in her office, is such a great honor. And then to meet our Lieutenant Governor Suzanne Crouch and to talk about the arts and to share about the Mars Hill Arts Center was such a blessing! John and I were able to share the story of the arts center with so many and my heart is so full. 
What are some plans you have in the near future?
More classes at the arts center! We welcome artists who are willing to give back to the community and teach for us. We also plan to partner with other organizations to host some summer events for the kids in the area.
Can you leave us with one really great book recommendation?
I have a few! Back in 2016 we bought the building for the arts center, I was reading Hillbilly Elegy: A Memoir of a Family and Culture in Crisis by JD Vance. It's about an area of the country that mainly consists of white poverty, which is similar to the surrounding community of arts center. I wanted to understand that mindset and that way of life and that familial type of culture. It was important for me to understand the generations of families that live in the area.
My second recommendation is a faith-based book, Every Good Endeavor: Connecting Your Work to God's Work by Timothy Keller. The book talks about how God calls us to work and how work is a part of our ministry and should be part of our faith journey. This has helped me from a personal perspective in terms of how I approach my work and my work ethic.
My third recommendation is The Circle Maker: Praying Circles Around Your Biggest Dreams and Greatest Plans by Mark Batterson. Batterson discusses drawing circles around the things that you're praying for and I was reading that book when John and I decided to move to Mars Hill. The book actually led me to a monumental moment in my life.
I was driving around the neighborhood after we bought the building for the Art Center. I had this feeling that God was telling me, "I want you to live there too." And I was just praying on that thought. At that moment, John texted me and said, "How would you feel about living in Mars Hill?" I just got chills, called him right away, and agreed. We ended up buying our house in the area two weeks later!
What is one fun fact about yourself or your business that people may not know about?
For my floral business, I have a pig valve in my heart flying 24/7, hence the name "Where Pigs Fly!" And for the arts center, before buying the building we started in, I was working as an HR Executive only 6 blocks away for 12 years!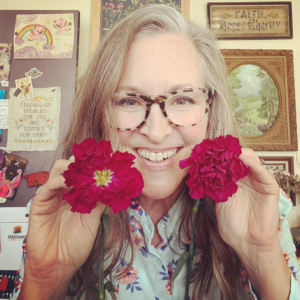 Is there anything else we should know?
I love Indianapolis and want to see it thrive. We are trying to do our part in our little community and hope to inspire others to do the same. Speaking of that, I also teach at our arts center, including plaster relief art and other art mediums.
Learn more about Mars Hill Arts Center here, and Where Pigs Fly and such here. 
Want to be our next featured member? Sign up to become an Indiana Owned member today, and explore all the benefits of joining the community here! 
Featured images: Where Pigs Fly and such, Mars Hill Arts Center