Meet Robin Lee, Executive Director of Nexus Impact Center. Located in Indianapolis just off 465 and Michigan Road, Nexus provides like-minded coworking space to start-ups, small business owners, and remote workers who care about their community. They offer office space for lease to nonprofits and for-profit businesses who are using their business for good. As a nonprofit social enterprise, Nexus also provides rental space for events and meetings to help fund its mission. What is their mission, you ask?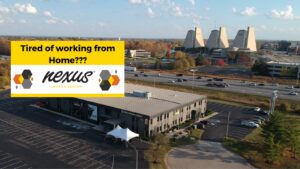 Since its opening in 2020, Nexus aims to unite, inspire, and resource people to cultivate impact-driven business models. Most importantly, Nexus equips people to embed social impact into their business model. 
Get to know Robin as she shares her expertise on social impact, the best advice she has ever received, and her take on why you should consider joining a co-working space. She also shares an incredible fact you may not know about her (with photos provided)!
What drew you into your current field? 
I have always worked in and around social impact (audited nonprofits, worked in government, ministry, and for a foundation), as making a difference in the world has always been a driver for me over money. I haven't seen our world's social issues change much in the last 25 years. When I started learning about social enterprises and for-profit businesses starting to embed social impact into their business models, I knew this was what could really move the needle on so many social issues.  
What philosophies are at the core of Nexus? 
The values at the core of our business are reflective in our Nexus Community:
Togetherness – We are stronger together. Inclusivity ignites innovation.

Innovation – Curiosity, creativity, and persistence drive breakthroughs with real impact.

Equipping – Great work requires the right tools: diversity of people, partners, and resources are the make-up of an effective toolbox.

Purpose – Each person has a God-given purpose to live out. 
Why do you feel it is important to be known as a local business? 
We fully believe local business drives the quality of life and prosperity in our local community. We support small local businesses at the core of what we do to make a social impact in our community.  We like to raise the question, "What if more business owners ran their companies  with specific intentions for community impact?" 
How would you define sustainable social impact, and what exactly does that look like?
The historical model for nonprofits is that they rely on donations and grants to pursue social impact. When we use the word "sustainable" with nonprofits, we are talking about diversifying their revenue to where it goes beyond donations and grants, and they have some earned income. 
We have seen some systemic issues with being fully reliant on donations and grants because donors and grant organizations want to see results in 12 months. But if you're really trying to work on root causes of issues and not just trying to issue aid, then you're not going to see a lot of measurable results after 12 months. You're going to need to measure things over the course of 5, 10, or 15 years to really resolve issues. 
Therefore, we believe that if you can make some earned revenue, then you have more flexibility in pursuing those root causes. When we're talking about sustainability, we acknowledge that it goes beyond aid and should contribute to the long run of social impact.
Best advice you've ever received (career-related or not)?
Never leave a job during a bad season. Wait until things are good, then decide if it's time to move on.  
What advice would you give to those thinking of starting their own business? 
Build a team around you as your own expertise is limited and you need other perspectives. People that believe in you will give you honest advice and not just be a cheerleader. You want people who don't mind ruffling your feathers, and people with different skillsets/expertise to see issues that you cannot.  
What is the greatest challenge in your industry?
Many people still don't know/understand what co-working is or how beneficial it can be for them. 
I always use this analogy: Co-working is like having a gym membership for work. When you get a gym membership, the goal is to get in better shape. You probably don't want to buy all the equipment and bring it into your home. Sure, you could exercise at home, but you prefer to just go to the gym for proper equipment and support. Plus, you may feel more motivated to work out with other people who have similar goals. The atmosphere is just so different than your home. 
Co-working is a very similar concept. Yes, most people can work from home with the bare minimum: a desk and a chair. But if you could have access to a printer, free coffee & wifi, meeting rooms, etc., you can get so much more out of your workday. Plus, it doesn't take much to invest in this space because you're sharing the cost with other like-minded members of the community. Being around others who are driven by social impact is positively contagious.  
Keep in mind that just like a gym membership, our members all have different schedules. Some members may work in our space daily, others will visit just a few times a week, and some come once a month. Our plans are flexible to fit your needs depending on how often you want to utilize that co-working environment. 
What is the greatest benefit of co-working?
Although people might say the benefit is "to get out of my house just so I don't go insane" or "take a break from my kids" or they can "focus without the laundry staring at them," the real benefit is being around like-minded people. Different co-working spaces have different niches, and our niche is centered around impact.  
To be blunt, social impact work is hard! Not to mention being an entrepreneur while attempting to have a social impact. Since the beginning of the pandemic, many have felt too isolated or lonely. When you start to question "does my work really matter?" or whether or not you have the proper skill set for your mission, co-working can provide you with the support you need!
Seriously, being around like-minded people who share their stories of success is so motivating. Co-working at Nexus allows you to collaborate and network with other leaders in the community, and having those relationships really matters in your business. 
What is the most rewarding aspect of your role?
I work with good-hearted people that are doing really great things. We have over 70 companies and 180 members on board that are making a positive impact in the world! 
What are some plans for Nexus in the near future?
1. We are hosting quarterly pop-up shops! Our next pop-up shop takes place on Wednesday, April 27, 2022, from 10 AM- 7 PM! Come shop from a variety of local Indiana-based vendors just in time for Mother's Day and Graduation season!
2. Recently, we launched our Powerhouse cohort to advance equity and inclusion in the board room for a ripple effect for greater social impact in our greater Indianapolis community!  This cohort will become a pipeline for new and diverse leadership for nonprofit boards of all sizes. There is power, passion, and perseverance brewing in our Inaugural Year Powerhouse Cohort!  
Can you leave us with one really great book recommendation?
The Ruthless Elimination of Hurry by John Mark Comer. I read it in 2020, and I think it's really thought-provoking on the pace we lead our lives. 
A book that I'm currently enjoying is That's B.S.: How Bias Synapse Disrupts Inclusive Cultures and the Power to Attract Diverse Markets by Risha D. Grant.
What is one fun fact about yourself or your business that people may not know about? 
I trekked to the base camp of Mt. Everest in 2019. Here I am at one of the 9 suspended bridges we crossed on the trek.
The word "Nexus" means connection. At Nexus Impact Center, people unite to do good.  Join the Nexus community where even their name suggests the deep connection they share. Learn more about Nexus here.
Pssst! Stay up to date and follow Nexus on Instagram, Facebook, and YouTube!  
Want to be our next featured member? Sign up to become an Indiana Owned member today, and explore all the benefits of joining the community here!