At Indiana Owned, our mission is to help you support locally owned and operated businesses faster and easier so we can create healthier, stronger communities and more jobs in Indiana. Within our membership, more than 63% of the businesses found on IndianaOwned.com are women-owned. Women-owned businesses represent a significant portion of small businesses while contributing to economic growth. As of 2019, women-owned businesses represent 42% of all businesses in the U.S.— nearly 13 million — employing 9.4 million workers and generating revenue of $1.9 trillion! While women in the U.S. aid in the creation of jobs, their contribution to job creation varies from state to state. More specifically, based on the employment growth rate and average numbers of employees between 2014-2019, Indiana measured as having the third highest employment vitality in the nation. The bottom line? Women-owned businesses carry heavy weight in our state's economy, and it's important to acknowledge their contribution and support them. 
Indiana Gifts, a sister company to Indiana Owned, has curated a collection of every women-owned product in their online retail store. A majority of the brands selling on ShopIndianaGifts.com are led by women. Your support for women-owned businesses is an investment in future innovation, economic success, and of course, equality. As woman-owned and operated businesses, Indiana Owned and Indiana Gifts will always value the great impact of women and stand for equality amongst our employees, members, customers, and community. 
Meet The Makers
It's time to share the spotlight! Meet the Indiana Owned members featured in the Woman Owned collection on ShopIndianaGifts.com. These local, women-owned "Indiana Original" businesses are Indiana-owned and operated, headquartered here, not part of an out-of-state chain, and are engaged in their communities. Get to know these creative, talented, and innovative women, support their businesses, and tell them that you found them through Indiana Owned!
Pam Hurst Designs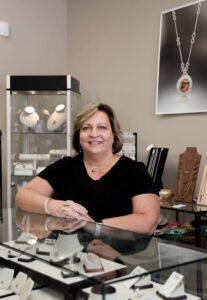 Meet Pam Hurst, Owner of Pam Hurst Designs & The Sterling Butterfly. Since 2000, Pam has created jewelry with silver, gold, and gemstones. In her custom work, she enjoys taking a customer's special moments, celebrations, trials, and successes and interpreting them into a piece of jewelry that has meaning to them. Located in Martinsville, Pam also runs her brick & mortar store, The Sterling Butterfly which showcases independent artists who are mostly regional.  
Pam is an independent artisan jeweler who loves to put a bit of the unexpected in modern, simple designs. Her jewelry has been featured as part of several gifting events including the Academy Awards and the Golden Globes. Not to mention, her work has been featured on a few TV shows, The Vampire Diaries and Jane the Virgin! 
📍 Learn more about Pam Hurst Designs here.
💡 Read up on our featured interview with Pam to get the full story of how she started her business!
Sunday Afternoon Housewife
Martha Latta is the creator and printer of the Sunday Afternoon Housewife brand, a collection of state pride and social justice tee shirts and accessories for adults and children. Martha created this original line in 2009 to give the residents of the East Side of Indianapolis a way to show their pride for where they live. She is proud to continue to design and print by hand in her Near East Side home. In 2014, 2015 and 2016 Nuvo readers voted her #1 best local artisan/maker for gifts and #1 best local apparel line.  
Martha also owns and operates Stomping Ground. Located in Windsor Park, Stomping Ground is a gift, houseplant, and small-scale seasonal garden center with a focus on native plants and locally grown plants. They also feature wide variety of books, puzzles, stationary and fresh flower bouquets.
📍 Learn more about Sunday Afternoon Housewife here and Stomping Ground here.
🎧 You can really get to know Martha's story by listening to our interview with her on the Local Matters podcast here! 
Mable Grace Crafts
Meet Grace Simmons, owner of Mabel Grace Crafts—an online shop for handmade, high-quality jewelry and crafts. Being a crafter since childhood, Grace finally turned her long-term dream into a reality with the launch of her shop in 2020. In this creative space, her goal is to satisfy customers with rare yet trendy pieces while supporting our local economy. Grace is based out of Tipton, but you can order her pieces directly from her website!  
I'm sure you're wondering why her store is called "Mabel" Grace, that's quite simple. Mabel is her dog and acts as an emotional support staff. She is a big part of the operation! 
📍 Learn more about Mable Grace Crafts here.
💡 Read our featured interview with Grace and get the scoop on what inspires her and why she loves what she does.
Kim's Key Lime Cookies
Kim's Key Lime Cookies has been around since 1994! Kim Harvey, creator of Kim's Key Lime Cookies offers a variety of delicious baked goods from fudgy brownies, loaves of decadent bread, chocolate-covered pretzels, and cookies of course! She offers bakery boxes, gourmet boxes, and party platters. 
Kim's Key Lime Cookies have been sold over the years to Nordstrom, Macy's, Disney vacation properties, PGA National Golf Resort, airport gift shops, the Jimmy Buffett band, and in the Caribbean and Canada. 
📍 Learn more about Kim's Key Lime Cookies here.
🎧 Hear Kim's full story in our interview with her on the Local Matters podcast here!
Hippie Nerd Creations

 
Hippie Nerd Creations was created by the owner, Brandy Perry. She inherited her grandmother's collection of 45's the last time her grandmother moved. After looking over the 45's that were stored in the garage for 30+ years Brandy realized that most, if not all of the collection were unplayable. She didn't want to part with the records but she wasn't sure what to do with them. 
As a creative, she decided to start making bowls out of the old 45's as gifts for people. Then one afternoon she brought a good friend a pair of earrings she made and asked: "what do you think?" Her friend absolutely loved them and encouraged her to make more earrings, and that's exactly what Brandy did. 
Based in Indianapolis, Hippie Nerd Creations has participated in numerous pop-up markets around Indy, Westfield, Irvington, Carmel, Franklin, etc. They currently have her earrings for sale at Electric Key Records and Irvington Vinyl.
📍 Learn more about Hippie Nerd Creations here!
Ahh Hah! Organizer Kits
Ahh Hah! Organizer Kits are attractive home organizers for three-ring binders.  Each kit comes with professionally printed tabs, a table of contents, a cover, and spine.  Plus, each is created with input from experts in that subject matter area so customers immediately benefit from professional expertise. 
Kits are attractive, inexpensive, and customizable. They can become keepsakes over the years which makes them a great gift idea. Recipes, Pet Records, Wedding planning, Financial records, and more…now have a tidy attractive home. 
Ahh Hah! Organizer Kits is owned and operated by Holly Hospel who used to manage and produce large trade shows that required high levels of organization primarily done in three-ring binders. 
📍 Learn more about Ahh Hah! Organizer Kits here.
📺 Watch the Ahh Hah! Organizer Kits segment on Indy Style here.
1 Oak Up
Kelly Maher is the creator behind 1 Oak Up- one-of-a-kind accessories made from discarded items such as old belts, leather that has been recycled, tin from soda cans, spent bullet casings, industrial copper, silverware, and anything else Kelly can get her hands on. Kelly's accessories are ever-changing depending on the materials she has at the time. What started as a simple weekend project with her family's old silver plated flatware has turned into a growing business. Kelly sees her business as a challenge to take something seemingly undesirable and turn it into something beautiful and useful. It is very important to remember to reduce, reuse, and recycle (Up-Cycle)! 1 Oak Up is based in Jasper, Indiana. 
📍 Learn more about 1 Oak Up here.
Fluid Life By Sharon
Located in Noblesville, Fluid Life By Sharon creates fun and inspirational pieces for your special spaces. Sharon paints contemporary art pieces and handcrafts modern and unique resin home decor statement pieces 
Specializing in fluid painting with poured acrylic paints, Sharon offers breathtaking original pieces on canvas in a range of sizes. She also produces functional art such as coasters and wooden serving trays. 
📍 Learn more about Fluid Life by Sharon here.
More About Indiana Gifts
Indiana Gifts is an online gift shop featuring fun, beautiful, and sentimental products made by Indiana Original companies. Every product is hand-selected by their buying team and they love discovering new items. Jewelry, snacks, drinkware, journals, coffee, candles, scarves, hoodies, coasters, cheese boards, meal kits, pet treats, ornaments, stickers, beauty products, organizer kits, books, gift certificates, and more! Shop local now at ShopIndianaGifts.com!