At Indiana Owned, our mission is to help you support locally owned and operated businesses faster and easier so we can create healthier, stronger communities and more jobs in Indiana. While we have been promoting the Holiday Gift Guide, we wanted to step back and make sure to shine light on the people and companies behind the products you see.
Meet The Makers
It's time to share the spotlight! Meet the Indiana Owned members featured in the Holiday Gift Guide 2022. These local "Indiana Original" businesses are Indiana-owned and operated, headquartered here, not part of an out-of-state chain, and are engaged in their communities. Get to know these creative, talented, and innovativors, support their businesses, and tell them that you found them through Indiana Owned!
Jiffy Lube
Meet Steve & Jennifer Sanner, Owners of Jiffy Lube of Indiana. Since 1985, the Sanners' have been providing the best vehicle maintenance service in Indiana, focused on being quick, convenient, informative, and professional in all aspects.
Have you heard of their "Growing People Through Work" program? Every other week, C.O.O., Lonnie Hinkle, and Steve lead 3-hour seminars designed to coach and encourage our team members to improve their health, their finances, and many other aspects of their personal lives. We challenge them to be better parents, better children, better friends, and better members of our community. We offer support in the form of tuition reimbursement, first-time home-buying programs, college scholarships for their children, sponsorship, and flexible hours for coaching youth sports teams as well as for volunteering their time to help in our communities.
Our own employee, Grace (Yeary) Simmons, has personally experienced the Sanners' genorsity, as the family donated funding for Westlane-Delaware Trails Little League to build dugouts for the youth softball and baseball fields where she and her siblings played. Often the world seems very big and the work we do seems to go unnoticed, but are her to remind you that you are valued and your efforts are appreciated (even if you don't hear about it).
📍 Learn more about Jiffy Lube here.
💡 Read up or Watch on our featured interview with Steve to get the full story!
PopCon
Meet Carl Doninger, the co-founder of PopCon, Indy's Premiere Comic Con locally owned and built with the fan experience a part of every decision. A convergence of innovation, pop culture, comics, cosplay, and more where we celebrate the spirit of the independent creator and their fans.
PopCon was founded to celebrate all aspects of pop culture, rather than just hyper focusing on a specific genre. We have a wide variety of interests – just like our fans – so we created a con to celebrate them all in one awesome weekend!
The pop culture landscape is changing. Once upon a time, artists and creators would have to be discovered to find successful careers in their industry. Today? The ability to create and self-publish gives artists more power than ever. PopCon wants to help them grow their craft and share their art with fans from all over the world.
📍 Learn more about PopCon here.
🎧 You can really get to know Carl's story by listening to our interview with her on the Local Matters podcast here! 
Lilly's Wearable Art
Inspired by new artists, Joan "Lilly" Carney brings timeless fashions designed and created from all over the globe.
Lilly has always had an discerning eye for fashion.  Her background in critiquing art and design grew as she was a model in her high school and college years, wearing fashions as a representative for Boston Store and Marshall Fields.
In 1992, Carney opened her first store, Lilly's Boutique, and moved operations to her house four years ago. But because of the COVID-19 pandemic, she said she began to miss interacting with customers on a more frequent basis.  Joan then decided to reopen her storefront in Zionsville.
Her passion is to help artisans and her visual collection of unique clothing will accommodate anyone looking for that timeless one-of-a-kind piece of art. Using her passion for fashion combined with her art-history education Lilly carefully curates items for her wearable arts boutique.
📍 Learn more about Lilly's Wearable Art here.
🎧 Hear more about Joan's journey by listening to our interview with her on the Local Matters podcast here! 
Hampton Designs Studio & Shop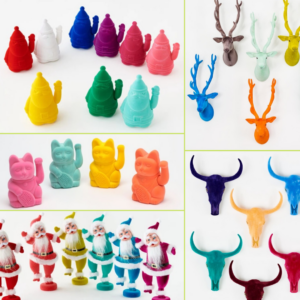 In 2011, Hampton began designing professionally. In the spring of 2014, Adam opened Hampton Designs Boutique, a shop in "Old Downtown" Irvington. In 2018, Hampton opened the award winning Hampton Designs Studio & Shop inside the historic Masonic Lodge.
Hampton consecutively coordinated two of Irvington's Tour of Homes, as well as designed two show homes and a model apartment for three Irvington Tour of Homes. Adam's own home was featured on the Tour of Homes. Adam also designed spaces in the St. Margaret's Guild Decorators' Show House for two consecutive years. Hampton's design work has been featured in the Indianapolis Star, Where's Sherman, Weekly View, Fox 59, and Indianapolis Monthly magazine.
📍 Learn more about Hampton Designs Studio & Shop here.
🎧 Hear Adam's full story in our interview on the Local Matters podcast here!
Send a Friend Lasagna
Meet Stephanie Eppich Daily, she created Send A Friend Lasagna after making a lasagna for a friend whose wife had passed away. "I remember feeling helpless, not knowing what to do or how I could possibly comfort my friend. So I leaned into what I love and brought lasagna to him." She likes to think of lasagna as a hug you give to someone even when you're not in their presence. "If someone takes a lasagna that I made out of their refrigerator or freezer and puts it in their oven to eat, I hope when they sit down at their table, they think of a hug I made especially for them."

Food allows people to share love, sorrows, accomplishments, and experiences. When people eat together it can be a time for laughter, sometimes tears, as well as reflection. Food allows us to "open our door" and share our lives with one another.
📍 Learn more about Send A Friend Lasagna here!
🎧 You can really get to know Stephanie's full story in our interview here!
Smooth N' Groom
Smooth 'n Groom is a small business that was created to provide our community with effective & easy to use pet grooming tools that are meant to keep our pets safe and looking great!
On the day-to-day, our pets can have a little fur trouble. Sometimes it can be a buildup of small tangles, knots, burrs, or maybe some gunk around the eyes. But while we wait in between grooming trips, there are some things we want to try at home to spruce up our pet's fur. This is when Smooth 'n Groom is here to help! We understand the desire for you to take care of your pets. It's one of the best ways you can show your pet you really care.
📍 Learn more about Smooth N' Groom here.
Windsor Jewelry
Windsor Jewelry has served Indianapolis for over 100 years. Our long-term success is rooted in helping our customers make educated decisions. We know that walking into a jewelry store can be intimidating so our sales staff is here to make you feel comfortable and to help you find the right piece of jewelry for your "special someone".
Sig Asher established Windsor Jewelry in 1919 to serve the rapidly growing city of Indianapolis. Herman Logan took over Windsor Jewelry in 1940, Greg Bires, a twenty- two year employee, purchased the store in 1998 and carries on the Windsor Jewelry tradition. Our philosophy of service and value has carried us through the depression, World War II, and the decline and reinvigoration of downtown Indianapolis.
📍 Learn more about Windsor Jewelry here.
📺 You can read more about Windsor Jewelry here in an article after their television appearance.
Zachary Tinkle's MiniCup Decision & Left Paw Press
We take pride in the vibrant graphics and high-quality materials that our books are produced with, making Left Paw Press a niche, premium publisher that produces pug, racing, medical, pet fashion, and coloring books. We hope our books entertain, educate, and support you and yours for generations to come. Left Paw Press is a small publisher that creates medical, racing, pug, pet fashion and coloring books. Authors include Dr. Brad Tinkle, Zachary Tinkle, and Laurren Darr. 
Zachary Tinkle is a stock car driving sensation who resides in Speedway, IN. He races in NASCAR's ARCA Menards national series. His accomplishments include winning the CRA Late Model Sportsman and Anderson Speedway Championships along with being named Rookie of the Year at Anderson in 2019. That same year, he won the CRA Triple Crown Championship. In 2018, he was named Sportsman of the Year by CRA and was voted Most Popular Driver on Speed.51. Prior to that, Tinkle won multiple minicup stock car and go-karting championships and races.
📍 Learn more about Left Paw Press here.
📍 Learn more about Zachary Tinkle Racing here.
Uplift Intimate Apparel
Meet Carla Mackie, she knows first and foremost that women want to be comfortable. It's that simple. Whether you're hunkered down with your kids and families or are working the front line battling COVID-19, comfort is all we ever really want.
"I feel your pain. This was my story. Like you, I spent decades being uncomfortable in my skin. It started with my bra not fitting properly and continued to every intimate apparel item (anything that touches your skin) I owned. There is hope – and a solution." – Carla Mackie
📍 Learn more about Uplift Intimate Apparel here.
🎧 Hear Carla's full story in our interview here!
More About Indiana Gifts
Indiana Gifts is an online gift shop featuring fun, beautiful, and sentimental products made by Indiana Original companies. We currently have a pop-up location in Lebanon! Every product is hand-selected by their buying team and they love discovering new items. Jewelry, snacks, drinkware, journals, coffee, candles, scarves, hoodies, coasters, cheese boards, meal kits, pet treats, ornaments, stickers, beauty products, organizer kits, books, gift certificates, and more! Shop local now at ShopIndianaGifts.com!